BLOOMBERG GOVERNMENT
Almost 80% of the $550 billion law will go to grants
Federal HR office gearing up for a 'surge' in hiring
Long before Congress gave the U.S. government $1 trillion to shore up the nation's infrastructure, the federal bureaucracy had its challenges doling out much smaller amounts of money.
Officials didn't always track how they spent the cash Congress already gave them—in one case environmental regulators wrote $71 million worth of incorrect checks. Local leaders struggled to get new pandemic programs up and running, even if the federal government provided billions to support them. Thousands of federal workers neared retirement, positioning the workforce for gaping holes in knowledge just as it is expected to manage billions of dollars.
Now President Joe Biden is asking the U.S. government to set up a suite of new programs, spend more on infrastructure, and hire enough workers to do it all—fast.
To get there, federal agencies such as the Departments of Commerce and Energy must find quick and accurate ways to get billions out the door—far more money than they're used to having on hand. The Environmental Protection Agency and Transportation Department will need to hire hundreds of new workers with hard-to-find skills in the midst of a labor shortage. And the White House will need to stand up a team to shepherd it all, plus work with the localities that own and operate most infrastructure nationwide.
It took months for Congress to cobble together enough votes to pass the infrastructure package (Public Law 117-58). It will take years for the slow-moving wheels of government to yield Biden's promised results, including fewer lead pipes, stronger roads and bridges, and efficient public transportation, though officials are beginning to send money to states to do just that.
"Trying to get money out too fast is just a recipe for fraud," Sean O'Donnell, the EPA's inspector general, said about the infrastructure law.
Biden has said government auditors will have open access to agency officials in the coming months to build public confidence in the administration's ability to deliver on the promises of the law. He's also instructed each agency to name a point person for government watchdogs who audit infrastructure spending.
Help Wanted
Almost 80% of the $550 billion in new spending the law provides will go to projects funded entirely or primarily by grants, Bloomberg Government found. That creates the biggest immediate challenge in carrying out the law—evaluating and tracking grant applications is hugely labor intensive. Government agencies need hundreds of new grant personnel, budget analysts, and managers. It takes an average of 98 days to hire a new federal worker, making it unappealing for Americans who want a paycheck quickly.
Days after Biden signed the infrastructure bill into law on the White House South Lawn, the federal government's human resources office asked agencies how many new hires they'd need to put it in place. A newly assembled 30-person team will guide federal officials through a hiring "surge," and set plans to launch a special website for help-wanted ads, said Kiran Ahuja, director of the Office of Personnel Management.
Agencies are beginning to post ads. The EPA is looking for at least a dozen grant specialists. The National Oceanic and Atmospheric Administration, given $2.6 billion in the infrastructure law, has at least four openings for managers. The Transportation Department got permission to cut down on paperwork to speed up hiring at least five engineers, according to its jobs board. The permission is typically reserved for jobs where there is a shortage of applicants, such as nurses or pharmacists.
"This is a once-in-a-generation opportunity to rebuild the federal workforce," Ahuja said.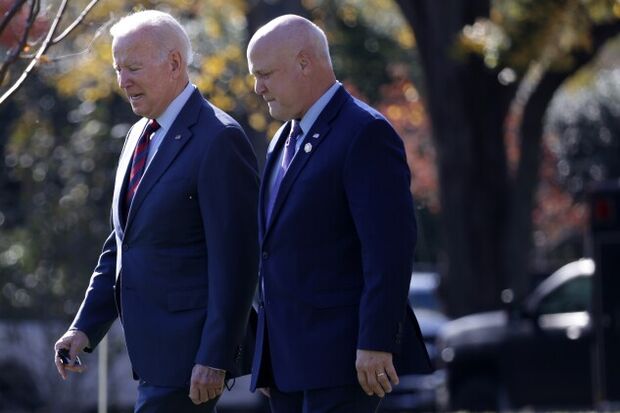 Broadband Vacancies
The Commerce Department, given $45 billion to expand access to broadband, offers a window into how Biden's infrastructure ambitions will collide in the coming months with the limits of the federal workforce.
The agency lost 6% of its employees in the year that ended in September, the greatest share of any cabinet-level agency in that same period, federal staffing records show. At least 13% of the department's workforce is older than 65—setting up thousands of employees to retire in the next few years. The Senate also has yet to sign off on Biden's nominee to lead the office that will handle the new broadband money. It hasn't had a permanent head since May 2019.
The department has less experience doling out infrastructure grants than agencies such as EPA and the Transportation Department. Commerce committed to spend just $2.9 billion on grants last fiscal year, according to federal spending records. The agency played a limited role in Biden's March coronavirus stimulus package (Public Law 117-2)—which gave other agencies practice handling large amounts of cash.
The infrastructure law gives the Commerce Department six months to get set up to distribute the funds.
"This is going to be a massive undertaking for the Department of Commerce, but we're up for it," Commerce Secretary Gina Raimondo told reporters in November.
States will also need to find staff. The Commerce Department is asking them to write plans for how they'll spend the money. As of late November, just 34 states had any kind of plan to expand access to broadband, according to Pew.
The White House infrastructure team, steered by former New Orleans Mayor Mitch Landrieu, will serve as a "front office" for local officials about the infrastructure law, said Samantha Silverberg, Landrieu's deputy. It's writing a guide for governors and mayors about funding available in the infrastructure law, she said, and helping those local officials get ready to use the money. It's also bringing together officials from across agencies to share how they're handling their portions of the law.
The Transportation and Interior departments also each have their own infrastructure coordinators working with Landrieu's team.
Past Hiccups
Both the president and government watchdogs are already calling for agency heads to keep a close eye on waste and fraud.
Biden directed agency leaders in December to assure the correct amount is sent to the right recipients—before the checks go out the door.
The EPA, which has already sent $7.4 billion to states to replace lead pipes and pay for clean water projects as part of $55.4 billion it has to spend on state and tribal grants, has a history of grant mismanagement.
It never used $8.3 million of its grants in fiscal 2020—money that regulators returned to the Treasury Department instead of spending it on improving the environment. As of that same fiscal year, the agency didn't have an electronic system to track where it had committed grants across its 109 programs, the agency's internal watchdog said. After the agency reported that it wrote $22.5 million worth of incorrect checks in fiscal 2019, the internal watchdog found it was at least $71.3 million.
The EPA began planning to carry out the infrastructure law as soon as the Senate passed the measure, a spokesperson for the agency said.
The law doesn't necessarily direct EPA or local officials to set up initiatives from scratch, making it easier for officials to get money to states more quickly. In Arkansas, for example, local officials are used to distributing clean-water money and are just waiting for EPA to supply the funding, said Chris Colclasure, a natural resources director in Arkansas.
"This is not a short-term rescue package," Silverberg, the deputy White House infrastructure coordinator, said. "This will take years."
To contact the reporter on this story: Courtney Rozen in Washington at [email protected]
To contact the editors responsible for this story: Bernie Kohn at [email protected]; Robin Meszoly at [email protected]